Martin Mallaun – solo
"It's just astounding to hear," guitarist and radio star Helmut Jasbar marveled on occasion of the bestowal of the renowned Ö1-Pasticcio-Prize on Martin Mallaun in 2006.
Martin Mallaun (born in Kitzbühel/Austria) studied concert zither and Botany in Innsbruck. "He is without doubt one of the most versatile artists currently active in the area of experimental music. Improvisation, electronic music, baroque lute music, alpine folk music, contemporary and new means of expression, while moving freely between utterly different performance concepts. (Music Information Center Austria, musicaustria.at )
He gives concerts in countless countries from France to Israel and as far as Japan, and has been guest artist at international festivals (including the Edinburgh International Festival/United Kingdom, the Munich Biennale in Germany and the Klangspuren in Austria).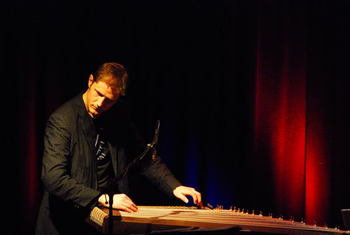 solo repertoire
contemporary New Music
Works by Georg Friedrich Haas, Dieter Schnebel, Hans Werner Henze, Manuela Kerer, Bernhard Lang, Werner Pirchner, Franz Hautzinger, Leopold Hurt and others
Baroque lute music
suites and pieces by Sylvius Leopold Weiss, Johann Sebastian Bach, Esaias Reussner d. J., Ernst Gottlieb Baron, Giovanni Girolamo Kapsberger, etc.
Renaissance music
lute music by John Dowland, William Byrd, Francesco da Milano, Hans Neusiedler, Luys Milan, etc.
Alpine folk music
wide repertoire of traditional Alpine music, mainly from Tyrol/Bavaria